Our Doctor
Dr. Brett Durbin graduated from the UMKC School of Dentistry in 2014 and spent his first 6 years of active practice serving rural communities in southern Missouri, including community clinics in West Plains, Cabool and Mansfield.
In 2020 Dr. Durbin took over the established practice of Dr. Charles Ryen, who has been providing dental care on the northside for nearly 40yrs. Both Drs. Durbin and Ryen share a strong desire to perpetuate their legacy of compassionate, quality care with a personal emphasis for all our Greater Springfield community patients, and so the practice has re-established as "Greater Springfield Dentistry" to affirm that commitment to serving all our local patients in this spirit.
Dr. Durbin is a recent past President of the Greater Springfield Dental Society and currently serves as our region's representative on the Board of Trustees for the Missouri Dental Association. He is also a past member of the Board of Directors for the Missouri Academy of General Dentistry and a current member of the National New Dentist Committee for the Academy of General Dentistry. Dr. Durbin is a pre-Fellow candidate in the Academy of General Dentistry and has been honored by Fellowships in the American College of Dentists and the Pierre Fauchard Academy.
Brett is a native of the Springfield area, having attended K-12 in the suburb of Ozark and studied Biology, Chemistry and Religion as an undergraduate at Drury University. As an Eagle Scout he enjoys many forms of outdoor recreation as well as gardening and exercise. He is an active member of St. James Episcopal Church and also enjoys his cup of coffee, loves a good read and delights in lots of time with family and friends.
Dr. Durbin enjoys dentistry and personalized patient care and he hopes you will feel like a member of the "practice family" as our patient at GSD.
---
Our Team

---

Mary Beth – RDH
Mary Beth has been a dental professional since 2010. She graduated in 2012 from UAMS in Little Rock, AR and is a "born Arkansan." Mary Beth moved to Missouri in 2020 to be close to family and is the proud mother of a beautiful one year old, Ellie, and enjoys spending her free time with this sweet pea and her fur baby, Phoebe.
Mary Beth joined Greater Springfield Dentistry in 2021 and says it is the best decision she has made since moving to Springfield! Providing quality patient care and building great relationships in a friendly, educational and fun environment is Mary Beth's goal for every patient and she is excited to bring that to her practice here as a member of our team.
---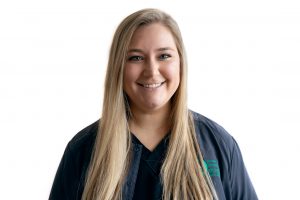 Devonn Kastl – RDH
Devonn graduated from the Missouri Southern Dental Hygiene program in 2017. She is from Fort Scott, KS, and moved to Missouri in 2021. Devonn & her husband have two ornery little boys and a golden retriever. Devonn enjoys providing her patients with thorough cleanings and making them feel comfortable throughout the visit. In her free time, Devonn enjoys reading, family walks, and trying new adventures with her boys.
---
Ashley – Front Office & EFDA
Ashley grew up in Fair Grove, Missouri, and has enjoyed working in the dental field since 2002. She is the first person you are likely to see or speak within our office. She loves getting to know each patient and working with this team that truly loves what they do. She studied at Ozark Technical Community College to become a Certified Dental Assistant and earned her Expanded Functions permit.
When she's not taking care of patients, Ashley enjoys live music, reading, board games, and crafting. She also loves serving the children of her church and spending time with friends and family. Ashley and her husband reside in Strafford, Missouri with their daughter and two dogs.
---
Candra – EFDA
Candra (Candi) grew up in Springfield, Missouri, and has been in the dental field for over 30 years. Making patients feel comfortable is Candi's passion and favorite part of her job. She went to Pacific Grove Community College in California for Dental Assisting and graduated in 1988. In 1995 she received her Expanded Functions permits. For fun, Candi enjoys reading and lake time with her family and friends. She has been married for 24 years and has four boys, two daughters-in-law, and five wonderful grandchildren.
---
Ashlyn – EFDA
Ashlyn has been in the dental field since 2014, with experience working as a dental assistant and at the front desk. She practiced in community health for 3 years in Mansfield, Cabool, and Mountain Grove (her hometown) and is a recent transplant to Springfield. Ashlyn's chief priority is a great patient experience for every patient and she loves working hard to ensure you feel comfortable in our office.
When she's not working Ashlyn enjoys spending time with her boyfriend of 7 years, George, her golden retriever, Paisley, and her teacup Yorkie, Sparklea, as well as her family and friends.
---
Brandy – EFDA
Brandy hails from Baltimore, Maryland but has spent the majority of her life now here in Missouri falling in love with our beautiful Show-Me State. She graduated from Midwest Technical Institute in 2017 as a Certified Dental Assistant and has loved getting to know and working with patients ever since! In her free time, Brandy enjoys thrifting, crafting and all things involving her three children.
---